---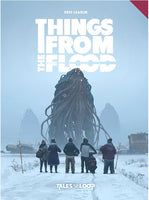 Welcome back to the world of the Loop – things are different now. Simon Stålenhag's paintings of Swedish retro futuristic suburbia, populated by fantastic machines and strange creatures, have won global acclaim. The award-winning Tales from the Loop tabletop roleplaying game was released in 2017 and let you experience this amazing world first hand. Now you can return to the Loop in this stand-alone sequel game that continues the story into the 1990s. But remember – this time you can die.
Key features of the beautifully illustrated hardcover book:
- Create unique player characters – including skills, iconic items, and relationships – in mere minutes.
- Dive deeper into the secrets of the Loop and experience the two game settings updated to the 1990s – the Mälaren Islands in Sweden and Boulder City, Nevada in the USA.
- New rules for scars and death – the stakes are higher and the risks greater.
- Investigate mysteries and overcome trouble using fast and effective rules, based on the award-winning Year Zero game engine.
Play the four complete scenarios included, tied together in the campaign named Prophets of Pandora. Made in Sweden.