---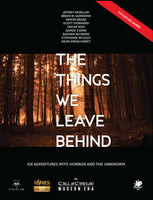 PDF provided immediately on purchase, a download link will be emailed to you immediately.
'The Things We Leave Behind' is an anthology of haunting and disturbing scenarios in a modern setting for the Call of Cthulhu RPG.
The Things We Leave Behind is an anthology of 5 modern day scenarios for the Call of Cthulhu roleplaying game published by Chaosium, Inc, edited by Jeff Moeller, and written by Brian M. Sammons, Scott Dorward, Simon Brake, and Jeff Moeller. Art by Davide Como and Stephanie McAlea.
Taking its inspirational cues from Delta Green, Fargo, Blood Simple, and True Detective, the book takes a mature look at the horror of human nature and its ability to be just as disturbing as anything from the Mythos. 
The scenarios deal with unavoidable fates, dark secrets, and seriously bad choices made by the antagonists. As so often is the case, there are no winners when fate has trapped you in a dice game for doom or destiny. As such, please be aware that some of themes are quite mature and are suitable for adult gamers only.