---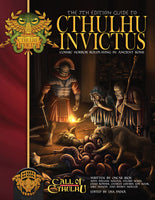 The 7th Edition Guide to Cthulhu Invictus is a tabletop roleplaying setting for the 7th edition Call of Cthulhu Roleplaying Game. It is a game of adventure and investigative horror set in ancient Rome. This updated version of the original Cthulhu Invictus setting is a complete re-imagination of the setting, written specifically for the 7th edition rules. The Roman Empire is at war, a secret war against the forces of evil, darkness, and chaos, a war known as the Shadow War.
This book contains everything you need to bring your Call of Cthulhu game into the world of Cthulhu Invictus, with new professions, investigator backgrounds, monsters, cults, magical artifacts, patrons, and investigator societies. In addition, there are updated combat rules and new optional rules covering infection, ill omens, exceptional weapons and armor, sanity recovery, luck burning and recovery, and so much more!
For 7th edition Call of Cthulhu. You must have at least one copy of the Call of Cthulhu 7th Edition Keeper Rulebook to play Cthulhu Invictus.