---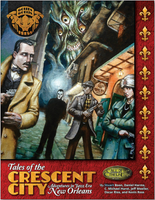 Along the banks of a crescent bend in the lower Mississippi River lies a city like no other...
It is an old city with a colorful, often tragic history, a place where different races, cultures, and religions meet, sometimes blending and other times clashing. It is a city rich in the arts, where music and food are celebrations of life. Yet beneath it all, there is another city, a haunted place where mysterious cults worship in the surrounding swamps, sagging plantations hide terrifying secrets, and the sins of the past do not stay silent or unanswered. The dark and dangerous powers of the Cthulhu Mythos are woven thickly into the tapestry of the Crescent City; they have always been and always will be.
But through it all, there have been a few brave and hardy souls who fought against these sinister forces. Many of them fall in this crusade, their bodies broken, their spirits corrupted, their minds unhinged by the horrors they face. Because of their struggles and sacrifices, the Crescent City is protected, and the blasphemous horrors beyond human understanding are kept a bay… at least for now… These are a few of their tales.
Tales of the Crescent City—Adventures in Jazz Era New Orleans is a collection of scenarios and supplemental articles for the 6th Edition Call of Cthulhu roleplaying game.
Eight scenarios set in the City That Care Forgot:

"Tell Me, Have You Seen the Yellow Sign?" (Golden Goblin Press Edition)—by Kevin Ross
Bloodlines—by C. Michael Hurst
Needles—by Daniel Harms
The Quickening Spiral—by Stuart Boon
Song and Dance—by Oscar Rios
Five Lights at the Crossroads—by Jeff Moeller
Asylum–Return of the Yellow Sign—by Kevin Ross
Five frightening scenarios:

Investigator's Guide to 1920s New Orleans—by New Orleans Mythos
Étienne-Laurent de Marigny—by Kevin Ross
A Few Notes on the Yellow Sign and The King in Yellow—by Kevin Ross
198 pages.