---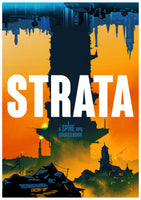 Delve deeper into the strange world of Spire with our first full-length sourcebook.
Strata is the first full-length sourcebook for the Spire roleplaying game. Written by Grant Howitt and Chris Taylor, and with ten scenarios from a wide variety of other authors, Strata gives more details on the best and worst that the city of Spire has to offer:
Two new classes: the purple-prose black-magic pulp fiction occultist Inksmith and the multifaceted and fractured Shadow Agent

Many new extra advances for any class: such as the flower-skinned Druid of the Living Spire, the muckraking Gazetteer, the sigil-scrawling Children of the Runestack and the language-hunting Lexicutioners

Ten scenarios (detailed below), allowing you to start a campaign of Spire easier than ever

More details on the richest and poorest parts of Spire: the shadowed and fecund Garden District, the decrepit grandeur of Ivory Row, the nightmare industrial bowels of the works, the alien luxury of Amaranth, and more

Beautiful full-page, full-colour artwork from Adrian Stone throughout
The scenarios in Strata are:
Better the Devil (by Grant Howitt and Chris Taylor). Forge unusual alliances as House Starys of the drow, long thought fallen, returns to Spire to take control.
Home Is Where The Hatred Is (by Helen Gould). Infiltrate and assassinate a wealthy aelfir household ruled by a cruel undying matriarch.
Bisquiet (by Xalavier Nelson Jr). Overthrow the government via the medium of arcane patisserie.
Lines in the Dirt (by Pauline Chan). You and your cell are being evicted from your Derelictus tenement. It's not much, but its yours – can you bring the other residents on-side?
Eye of the Beholder (by Christine Beard). An aelfir artisan is surgically modifying drow to act as tormented "masks" – unless you break into her lavish auction and put a stop to it.
The Fall of Glasshelm (by Mary Hamilton and Kira Magrann). Bring down the Glasshelm corporation, and put a stop to their dreams of bulldozing the undercity to make way for new aelfir housing.
The Forgotten (by Laurence Phillips). After the death of their protector, a group of vulnerable citizens must navigate the dangerous world of espionage after they are caught between the Ministry and the Solar Church.
Ironshrike (by Ben Brock). In the depths of Derelictus, the cell are tasked with eradicating a sacred market built in the worship of predatory capitalism. How do you kill a place?
The Sulphurous Presses (by Coman Fullard). Given a printing press and some run-down premises in the Works district, the cell must gain dominance over the newspaper market by publishing their own propaganda and sabotaging rival papers.
Dark Harvest (by Chris Farnell). After a mission goes wrong, the Ministry bundles the players off to the deep farms of La Grotte du Corde – but, of course, nothing is what it seems in this idyllic pastoral village.
Strata requires a copy of the Spire RPG to use the rules and setting within to the best effect.