---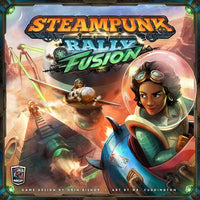 Compilation of Steampunk Rally and Steampunk Rally Fusion.
Sold in the Steampunk Rally Fusion Kickstarter as a combined deluxe set in a box with alternate art: Steampunk Rally Fusion at front, Steampunk Rally at the back of the box, and graphics on the side of the box indicating that the two sets were bolted together, and with the logo "Atomic Edition".
Optionally, an upgrade version was sold in the KickStarter with the special box, and the deluxe components from Steampunk Rally Fusion only. To be combined with the components of the original Steampunk Rally.
Take on the role of ingenious inventors from history. Draft cards to invent your racing contraption. Power your creation's abilities with combinations of steam, heat, electricity, and Fusion dice. Use cogs to augment bad dice rolls and upgrade certain machine parts.
Smashing through damaging terrain spaces may cause parts to fly off your machine, constantly forcing you to adapt your strategy and discover new card synergies. Fortune favors the brash, so get ready to Gear Up, Overcharge your machine, and remake history!