---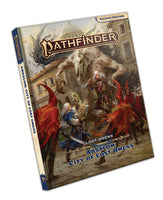 THE CITY IS YOURS
For nearly 5,000 years, the great city of Absalom has stood at the center of the Inner Sea region's culture, commerce, and prophecy. Now, after the death of its founder-god Aroden, the disappearance of its lord mayor, and new attacks from some of its greatest foes, Absalom stands at the crossroads of a new and uncertain destiny!
This lore-packed 400-page guide presents a fascinating locale suitable for years of Pathfinder adventures! A huge poster map of the city, more than 250 locations, and more than 400 interconnected NPCs set the scene in unprecedented detail, beckoning your characters to walk upon streets paved with centuries of history. Follow in the footsteps of generations of questing heroes to chart a new path for the City at the Center of the World!
Written by: Allie Bustion, John Compton, Jeremy Corff, Katina Davis, Vanessa Hoskins, James Jacobs, Virginia Jordan, Erik Mona, Matt Morris, Liane Merciel, Dave Nelson, Samantha Phelan, Jessica Redekop, Mikhail Rekun, Brian Richmond, David N. Ross, Simone D. Sallé, Shahreena Shahrani, Abigail Slater, Chris Spivey, Diego Valdez, and Skylar-James Wall
Content Warning: While Absalom, City of Lost Omens contains a great deal of content suitable for everyone, it also presents themes of slavery, ableism, body horror, and human experimentation. Before you use this material in a campaign, understand that player consent (including that of the Game Master) is vital to a safe and fun play experience for everyone. Talk with your players before using these themes at the table and modify descriptions or scenarios as appropriate.