---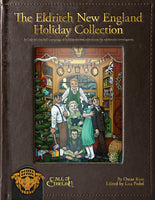 Kids growing up in eldritch corners of New England have rather unique childhoods. Those growing up in Arkham, Kingsport, Innsmouth, and Dunwich know that shadows hide a darker evil. The six cousins of the Morgan clan are no different. The cousins are aware their hometowns aren't like other places. They know that ghosts haunt empty fields, that monsters lurk beyond the Wall of Sleep, that horrors lurk below lonely graveyards, and that the darkest secrets are often kept by those trying to protect us. They also know that, whatever happens, they'll face it together and do whatever it takes to set things right. They're sure that the light of friendship and family can cast away any shadows.
But what do kids know?
Halloween in Dunwich:

A dark night of ghost stories on Great-Grandpa Silas' farm.

Christmas in Kingsport:

A magical holiday filled with surprises, adventure, magic, and horror.

Easter in Arkham:

A week-long holiday in Arkham takes a very dark turn.

Innsmouth Independence Day:

A long weekend on the beach leads to rebellion and secrets.
ALSO
The History of the Morgan Family
The Morgan Family Tree
An Overview of the Morgan Cousins
24 Pre-Generated Investigators: The Morgan Cousins, Their Best Friends Forever, The Cousins as Adult Investigators, and The Cousins as Pulp Adult Investigators