---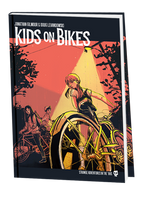 Young Adults, Small Towns...
BIG ADVENTURE!
Kids on Bikes is a Collaborative World Building RPG set in small towns with big mysteries. Written and created by celebrated game designers Jon Gilmour (Dead of Winter, Atari: Centipede/Missile Command/Asteroids) & Doug Levandowski (Gothic Doctor, Seven Minutes in Hell). Kids on Bikes is a rules-light storytelling system that gets players into the action fast. 
The Adventures of Kids on Bikes take place in small towns at any point in history before: 
Everyone had a camera phone that could catch video of a Ghost
Use GPS to track a Homicidal Maniac roaming around town
Research an old creaky house in seconds using Google 
Kids on Bikes takes place in a more mysterious time, where anything and everything *could* happen. 
Kids on Bikes is a 60 page, rules-light, fast-paced storytelling game in the spirit of games like DREAD, Perseverant, MONSTERHEARTS, and other great indy titles. Kids on Bikes is perfect for game nights in which you want to get a game in RIGHT NOW. 
Using stats like GRIT, CHARM, FIGHT, FLIGHT, BRAINS and BRAWN, you'll jump into the action. Each skill is represented by a polyhedral die based on your character's competence. More sides = better chance of success.
Kids on Bikes is a Collaborative Storytelling RPG set in small towns with big adventure!
The door to the old house creaks open, the rust on the hinges groaning as you see the dust floating like spores in the air inside. By the faint light of your cheap flashlights, you see the stairs to the upper floor, its railings gnarled and broken like crooked teeth. Their curve makes the stairs seem almost like a hungry grin, and you wonder if their age will support your weight. Still, you must go in.
The only question is who will go first?
In Kids on Bikes, you'll take on the roles of everyday people grappling with strange, terrifying, and very, very powerful forces that they cannot defeat, control, or even fully understand. The only way to face them is to work together, use your strengths, and know when you just have to run as fast as you can.
Features
80 pages of full-color rules, illustrated with the exceptional style of Heather Vaughan, everything you need to play in ONE BOOK!

Sample Module (Point Pleasant, New Jersey) to get you right in on the action.

Introduce a Powered Character into your game that every player has a hand in controlling. Because who knows when you may need a little extra help!
kids on bicycles