---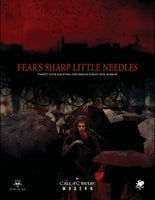 PDF provided immediately on purchase, a download link will be emailed to you immediately.
Fear's Sharp Little Needles is a grand collection of Call of Cthulhu 7th edition scenarios in a modern setting (easily convertible to 6th edition). They focus on the darker aspects of horror roleplaying and, as such, are recommended for a mature audience.

More inspired by True Detective and Hannibal than Pulp Horror, these adventures involved mythos corruption of the Human psyche and many feature direct contact with entities from outside space and time.
Ideally suited to one evening's play, they have been written with a compact adventure style and Keepers will need a minimum of preparation time before being able to run them. Each scenario will also have tags in the header image so they can make quick decisions on what to run and then deal with dinner, family, or relaxing before their players arrive.