---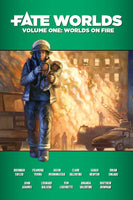 Sale
Fate Worlds is an expansion for the Fate Core System.
Flexible RPG systems like Fate Core are terrific if you have the time and energy to put into building a world. But we also realize that sometimes extensive prep just isn't feasible. The good news? You can still experience the Fate awesomeness with the help of the Fate Worlds expansion.
Fate Worlds Volume One: Worlds on Fire is the first in a two-volume set. In Worlds on Fire, you get six rich story settings. Each setting includes custom mechanics, NPCs, and story elements—all ready to go using the system provided in Fate Core. We've got you covered regardless of your flavor of RPG choice. Divest an evil cult of a powerful idol in Tower of the Serpents, or experience the small town supernatural in White Picket Witches. Explore the lives, loves, and losses of fire fighters in Fight Fire, or take on a horde of WWI mechanical monstrosities in Kriegszeppelin Valkyrie. Whether you stick with one world or go on a grand tour, Fate Worlds will provide everything you need to develop your Fate Core adventure except the snacks.
Fate Worlds. All the worlds. Your stage.
WORLDS ON FIRE INCLUDES:
Tower of the Serpents by Brennan Taylor
White Picket Witches by Filamena Young
Fight Fire by Jason Morningstar
Kriegszeppelin Valkyrie by Clark Valentine
Burn Shift by Sarah J. Newton
Wild Blue by Brian Engard
EXPANSION INFORMATION
Number of players: 3-6
Age of players: 12+
Length: 2-8 hours
Type of Game: Roleplaying Game Supplement for Fate Core
Languages Available: English
Suggested Retail: $15
Format: Softcover Book and Digital Formats (PDF, Mobi, ebook)
Release Date: 2013 Q4
Game Designers: Brennan Taylor, Filamena Young, Jason Morningstar, Clark Valentine, Sarah Newton, Brian Engard, John Adamus, Leonard Balsera, Tom Cadorette, Amanda Valentine, and Matthew Bowman