---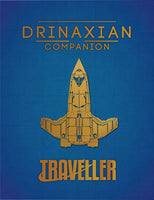 The Drinaxian Companion is an expansion to both the Trojan Reach and the Pirates of Drinax campaign, and useful for any and all pirate-based adventures in Traveller. This volume presents additional rules and adventure possibilities, along with a useful summary of the Pirates of Drinax campaign and locations featured within it. New aspects of the Trojan Reach sector are explored with Central Supply Catalogue and High Guard additions that cover the Sindalian Empire, base building, and new starships such as the Rorix Command Vessel, Cestion Strike Boat, and the ECITS modular system that permits the quick and easy customisation of a standard vessel to accommodate a massive range of functions.
     Inside you will find: Guidance on running the campaign with new perspectives and schemes the Travellers can attempt. A complete Assets and Factions system, allowing the Travellers to build a network of havens and supporting organisations across the sector. A detailed look at the nature of piracy and counters to it. Rules for building pirate bases from scratch, ensuring there is always a safe place to run to when the Imperial Navy arrives. A deep dive into specific locations and patrons found within the Trojan Reach. Stories From Sindal, a system that allows Travellers to research and chase up rumours of caches and other secrets from the lost Sindalian Empire. Personalities and factions from the Trojan Reach, ready to be inserted into any campaign,
First Prize, an introductory adventure that can be played before Pirates of Drinax to introduce Travellers to the wonderful world of piracy!