---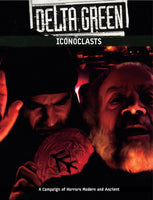 Includes free PDF delivered via Bits and Mortar. 
THE FATHER OF WAR UNLEASHED

Iconoclasts is a 206-page full-color hardback campaign for Delta Green. It brings a team of Agents to a scene of horrors all too real: Mosul in 2016, held by the self-styled Islamic State in a reign of depraved brutality. From a small base at the Kirkuk airfield, the Agents must research the horrors to come and prepare for a harrowing infiltration.
» HORRORS IN MOSUL: A grim overview of life under ISIL.
» A BLACK SMOKE RISING: A scenario as prelude. The players briefly take the roles of ISIL fighters, sent to destroy mysterious artifacts without knowing what terrors they might bring upon themselves.
» OPERATION BONE BOX: Delta Green Task Force 01132 gathers for a briefing on a ghastly incursion and an interview with an unusual witness: a renegade veteran of Delta Green.
» THE EVIL OF THE WHISPERER: Espionage, political wrangling, and pursuit of hidden myths of history and prehistory prepare the Agents for Mosul. But can any preparation be enough?
» AMONG JINN AND MEN: Gore in the streets of Mosul and the waters of the Tigris. A bloodthirsty cult, its viciousness shocking even by the standards of ISIL. A demon or god rising to ancient glory.
» BLACKER THAN BLACK: Extensive rules and guidelines for spying, crime, and backroom deals that can be the basis of an even broader international Delta Green campaign.
» New rituals, new tomes, and the dreadful details of a threat to suit all the evils of humanity.
Born of the U.S. government's 1928 raid on the degenerate coastal town of Innsmouth, Massachusetts, the covert agency known as Delta Green opposes the forces of darkness with honor but without glory. Delta Green agents fight to save humanity from unnatural horrors—often at a shattering cost.