---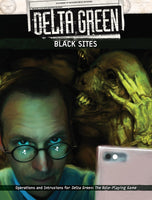 Hidden Horrors
"It is absolutely necessary, for the peace and safety of mankind, that some of earth's dark, dead corners and unplumbed depths be let alone; lest sleeping abnormalities wake to resurgent life, and blasphemously surviving nightmares squirm and splash out of their black lairs to newer and wider conquests." —H.P. Lovecraft, "At the Mountains of Madness."
Delta Green: Black Sites collects seven Delta Green operations that were previously published only in PDF or in standalone paperback modules. They lock bystanders and Agents alike in unlit rooms with the cosmic terrors of the unnatural. Unwanted survivals rise from death or slumber into the nightmarish life of humanity.
PX POKER NIGHT: At an isolated Air Force base, discontented service members listen to the night sky and hear secrets not meant for human ears. Updated for Delta Green: The Role-Playing Game and featuring new illustrations by Dennis Detwiller. Written by Dennis Detwiller and Adam Scott Glancy. 
KALI GHATI: A Delta Green operative goes missing from a combat base in the Afghanistan war. A handful of agents in-country must learn what discovery lured him across the wire. Then they must bring him home. Written by Shane Ivey.
THE LAST EQUATION: A gifted university student guns down a family of total strangers, leaving behind a string of numbers that fills Delta Green's researchers with dread. Can your Agents stop the next horrific slaughter? Written by Dennis Detwiller.
LOVER IN THE ICE: A bitter midwestern winter shuts down a city…and awakens a threat that is all too ready to spread. Featuring new illustrations by Dennis Detwiller. Written by Caleb Stokes. 
SWEETNESS: Vandalism on a family home makes the police fear a hate crime. Delta Green recognizes the symbol for something worse. What connections have these ordinary people made to bring such danger to their door? Written by Dennis Detwiller.
HOURGLASS: A woman vanishes, screaming, in front of dozens of witnesses in a small Oregon town. Your Agents must find what killed her, stop the threat, and make sure no one else ever learns the truth. Written by Shane Ivey. 
EX OBLIVIONE: Vicious murders stain the Arizona desert. Crazed words scrawled at a crime scene hint at Y'ha-nthlei and the sea. A handful of Agents have a chance to claim vengeance for ancient wrongs—or suffer it. Written by Dennis Detwiller.
An index helps Handlers build broader connections between horrors in their campaigns. 
Delta Green: Black Sites is full-color hardback, 208 pages. Its scenarios are playable with the Agent's Handbook and the Handler's Guide, or with the quickstart rules in Delta Green: Need to Know.