---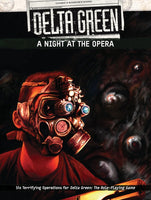 Two days ago, a newspaper delivery driver found retired geneticist Tibalt Grieves dead outside his suburban home. Police found Grieves' girlfriend dead in the house. A detective discovered a hidden lab, outfitted with bio-hazard scrubbers. A CDC specialist found unidentifiable samples—samples that indicated that something had gotten loose. When the sun rose, Grieves' body began to smolder and disintegrate.
You are cordially invited to a Night at the Opera... 
A Night at the Opera collects six Delta Green operations that were previously published only in PDF or in standalone paperback modules. Combined, they expose a team of Agents to the edges of the horrors of the world of Delta Green, then suck them into abysses of fear and desperation from which the world itself may never emerge.
An index helps Handlers build broader connections between horrors in their campaigns.