---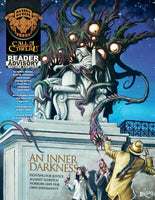 While the best of humankind fights for just laws and civilization, those who cling to power and privilege stand ready to quash protections for those who need them the most. In the shadows of human injustice lurk loathsome, inhuman entities. As investigators square off against the mankind's darkest nature, they sometimes find themselves entangled with the parasitic and corrupting powers of the Mythos.
An Inner Darkness presents a collection of well researched, historically accurate and challenging adventures, with a darker, harsher and more brutal tone than what is usually found in your typical role-playing scenario. This is a more mature book, focused on adult themes, designed to spark deep conversations among your players for years to come. Each scenario features the malignant taint of the Cthulhu Mythos, but at the forefront of each are examples of social injustice, societal corruption, and mankind's inhumanity to man. The 1920's was a period of great social upheaval in America, when the borders between classes, races, and genders were changed. In this time of social upheaval and chaos, eldritch forces found fertile ground to exploit us. Mankind is never so vulnerable than when we are divided from within.
An Inner Darkness is a collection of six scenarios for the Call of Cthulhu 7th Edition Role Playing Game.
Dreams of Silk by Christopher Smith Adair


Featuring unsafe conditions, dangerous materials, and lack of concern for worker safety in Pennsylvania.

When This Lousy War is Over by Brian M. Sammons


Featuring traumatized, disfigured veterans, struggling to reintegrate with post-war society in Massachusetts.

A Fresh Coat of White Paint by Jeffrey Moeller


Featuring racial discrimination, deplorable detention camps, and human rights violations in California.

A Family Way by Oscar Rios


Featuring sexual assault, torture, imprisonment, corruption, and abortion in New York.

Fire Without Light by Helen Gould


Featuring rampant racism and mob violence in the aftermath of the Tulsa Massacre of 1921 in Oklahoma.

They Are From Away by Charles Gerard


Featuring organized racial and religious persecution by the Ku Klux Klan in Maine.
Investigator Organizations
The Caldwell Book Mobile Service, by Oscar Rio
A Bunch of Troublemakers, by Jeff Moeller
Friends from Boston, by Jeff Moeller