---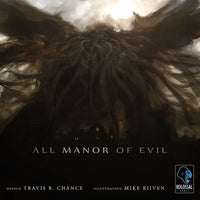 Sale
By night we came, descending upon the old house like the vultures that we are. They say the manor is full of valuables and relics. They also say Lovecraft is mad, believing his writing to be more than mere fiction. Let's hope that isn't true... and why the front door was left unlocked?
All Manor of Evil takes players inside the mind and abode of HP Lovecraft. As players pilfer and steal relics, ancient forces awaken and madness stirs. Beyond the larceny at hand, each player has an agenda of their own. Some want only to survive the night, while others wish to call forth an elder god eager to devour the players... or the world.
Take on the role of an Archaeologist, Reporter, Warlock, or others as you race against time, and the other players to escape the manor with the most valuable relics. Beware that one or more of the players in the game may instead be working to awaken a cosmic Elder God to devour the world. When the games ends, at least one of you will be driven mad from the sights they have seen.
Players: 1-5
Age: 14+