---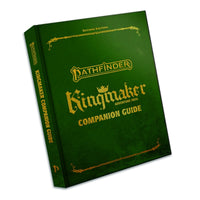 The heroes of the Stolen Lands can use all the help they can get! The Kingmaker Companion Guidepresents seven fully detailed companions inspired by the Kingmaker video game, ready to provide all sorts of assistance, each accompanied by a fully detailed personalized adventure to go along with their story. Notes on how an additional six companions can aid your adventures, extensive rules for camping and cooking strange and even magical meals to bolster your characters' abilities, and a fully detailed system to incorporate weather and hazards like blizzards, flash floods, tornadoes, supernatural storms, and more into your campaign make the Kingmaker Companion Guide a must-have expansion for your Kingmaker Adventure Path or indeed any Pathfinder campaign!
Each companion character introduces a plethora of new character options to further enhance and bolster your characters' abilities and options, including over a dozen feats, nearly a dozen spells, ten new alchemical and magical items, three dozen new exploration and downtime activities, and much, much more!
This deluxe special edition is bound in faux leather with metallic deboss cover elements and a bound-in ribbon bookmark.